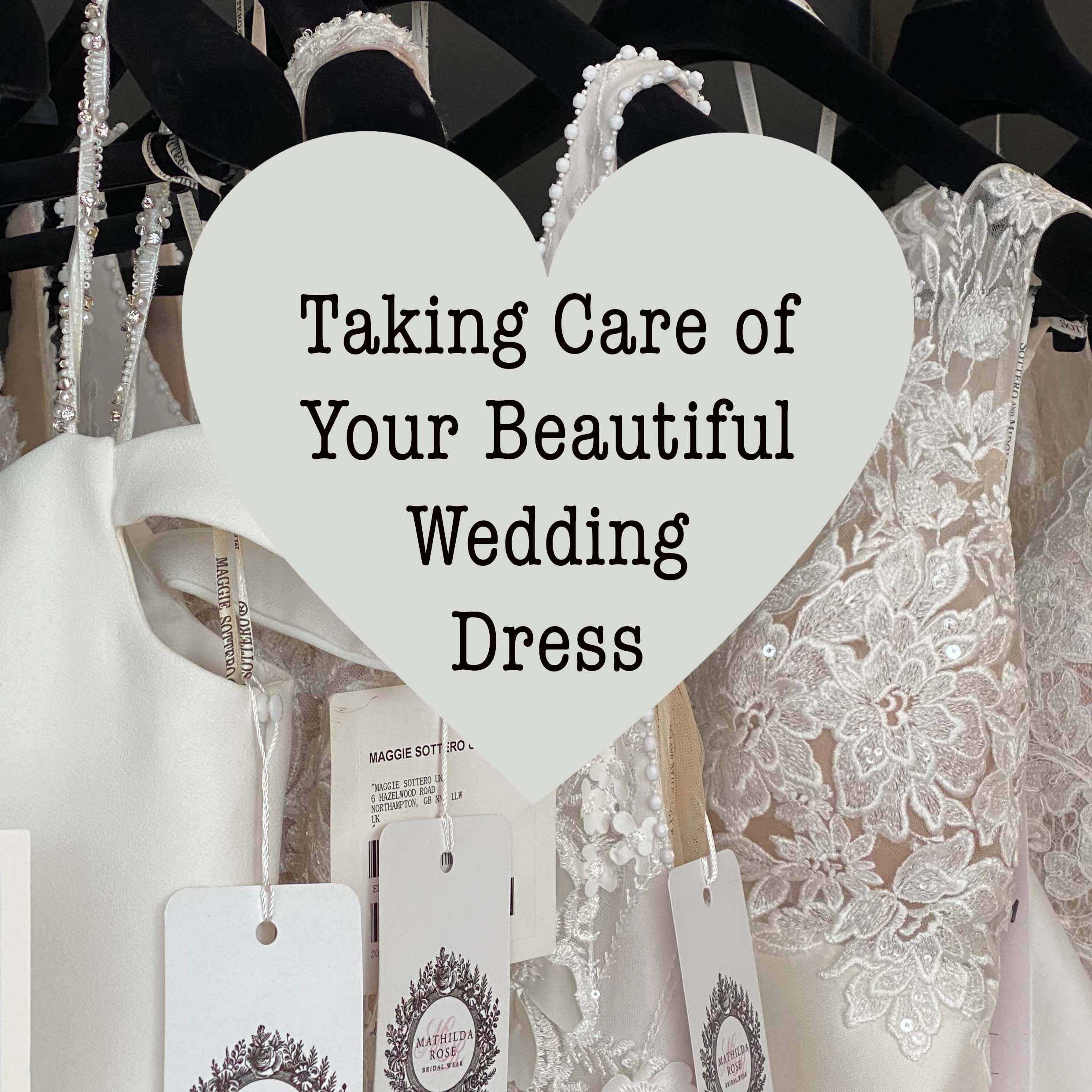 With almost all Mathilda Rose 2020 weddings postponed and now a growing number of 2021 Weddings sadly also postponed, one of the most frequently asked questions we receive at the moment from our gorgeous brides is "How do I care for my beautiful wedding dress safely until my new wedding date?".   Here is our top tips for brides who have collected their dresses and may not be wearing them for a while or due to collect in the coming months:
Store your dress away from direct sunlight! Your beautiful Mathilda Rose wedding dress is at its happiest in a cool, dry and dark place. Keep your dress away from direct sunlight and don't store with anything musty or dirty, as odours may linger.  Your wedding dress will be happiest in the breathable Mathilda Rose dress bag given to you on collection.  If you want you can also add some silica gel packs to absorb any moisture.  These are available on Amazon for around £10 but are definitely not a must have.
Hang your wedding dress correctly!  Long term hanging could damage your dress, particularly if it's heavy. Don't hang it by the straps or shoulders, instead, use the hanging ribbons that we showed you when you collected your wedding dress from Mathilda Rose.  If possible, try to hang your wedding dress with plenty of space around it in the wardrobe – if it's crammed in, it will only get creased and potentially damaged.  If your wedding dress is a ballgown or has a super long train, it may get crumpled if it's left in the bag for too long so you may need to take it out of the dress bag to let it hang fully or take it out on occasion to puff it out.  A clever trick here is to use an empty duvet cover to protect your wedding dress.
Avoid temptations to play dress up!  It may be super tempting to look at your dress or even try it on for your most important friends and family to see, try to resist the urge! If you've got quite a few months until your new wedding date, the last thing you want is to become tired of your amazing dress.  Likewise, every time you handle the dress, you risk getting marks on it (always make sure you have clean, dry hands when you do, and maybe even where white gloves).
Choose a tucked away place! At Mathilda Rose we also recommend you keep your dress away from anywhere young children or animals might be able to access it, and out of site of house guests (when we have those again!) who might be tempted to take a peek!
We hope this helps, try not worry, some of our sample dresses have been hanging on our rails for years and still look like they are brand new!
Nicola x