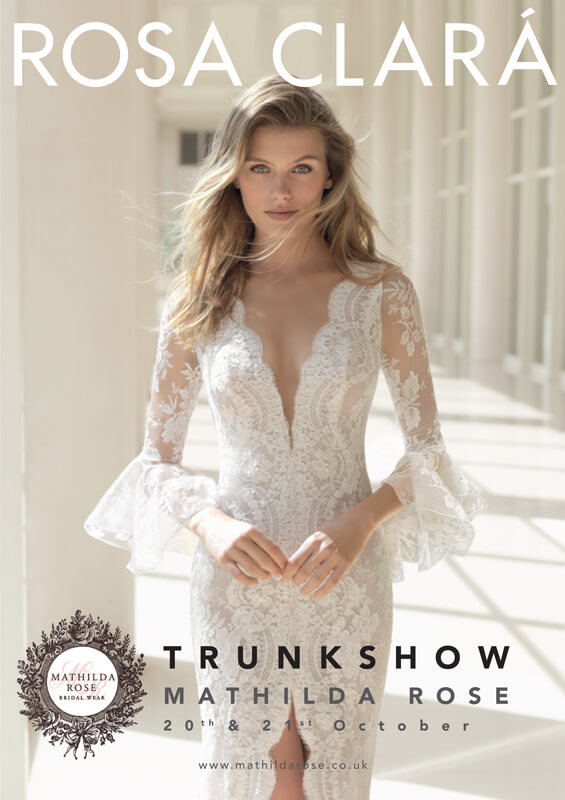 Sussex coup for Mathilda Rose as new International brand Rosa Clará exclusive arrives!
Mathilda Rose is delighted to announce that out of all the bridal boutiques in the South East we have been selected to exclusively represent the international brand Rosa Clará for it's UK launch.
Rosa Clará offers brides innovative designs created from the highest quality fabrics with the flair that only a leading Barcelona design house can bring.
Mathilda Rose has been in discussion with Rosa Clará since September 2016 and was finally selected by the designer following a thorough review of boutiques across the 4 counties.
"In the end, Mathilda Rose was the obvious choice for us to make. Their unique luxury boutique in the historic market town of Lindfield provided the perfect setting for the quality and refinement offered by Rosa Clará to the discerning bride" said Hayley, Rosa Clará Sales Representative Wales and Southern England.
Nicola O'Rourke, Creative Director for Mathilda Rose agrees.  "We are so excited to add this unique brand to our collections, The juxtaposition of cutting edge wedding design with the history of our boutique provides a fabulous opportunity for our brides that no other boutiques in the South East can offer"
Rosa clara will be lending Mathilda Rose an additional 30 styles for the Trunk Show event, to book your exclusive appointment email nicola@mathildarose.co.uk. Be quick – appointments are going quickly for this exciting event!