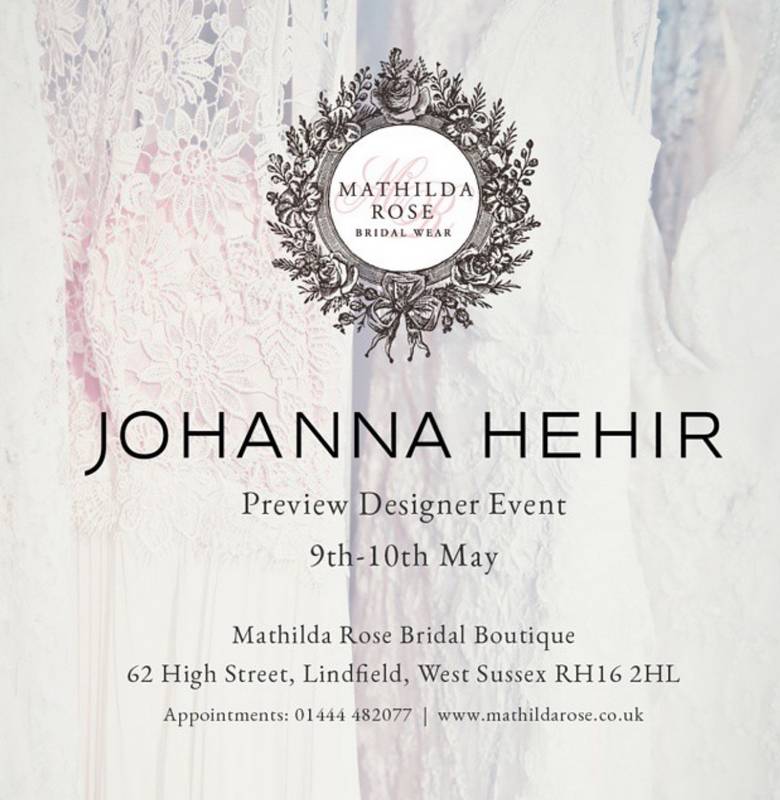 We fell in love with Johanna Hehir's effortlessly beautiful wedding dresses back in 2010 before we first opened Mathilda Rose and it was no surprise that we began taking orders before we even opened our boutique doors. Johanna Hehir collections are the epitome of style and understated luxury.
Johanna Hehir is a family business, now based in New Zealand run by Johanna and her eldest daughter Fianna. These ladies are so incredibly dedicated to their label, constantly striving to ensure that every wedding dress is handmade to the highest possible standards. We love our working relationship with this label, they are seriously talented ladies!
Johanna and Fianna will be visiting Mathilda Rose from 8th – 10th May for the UK Launch of their new collection. If you are searching for the perfect wedding dress this is a date you need to have in your diary!
To book your appointment or to be added to the guest list contact
Event Schedule
Friday 8th May (Guest list only)
7pm informal drinks reception. Come along and meet Johanna & Fianna, view the new collection, relax with your friends with a glass of fizz in your hand. This event is open to any Mathilda Rose brides who have already worn or ordered a Johanna Hehir wedding dress as well as any new brides still searching for their dress.
Saturday 9th May & Sunday 10th May (By Appointment only)
Our boutique will be open for usual weekend appointments to view and try on  this new collection. Johanna and Fianna will be on hand to advise you on the best looks for you. We will be offering 10% off all Johanna Hehir dresses ordered at this event.
Hope to see you there, it's going to be fabulous!
Nicola x