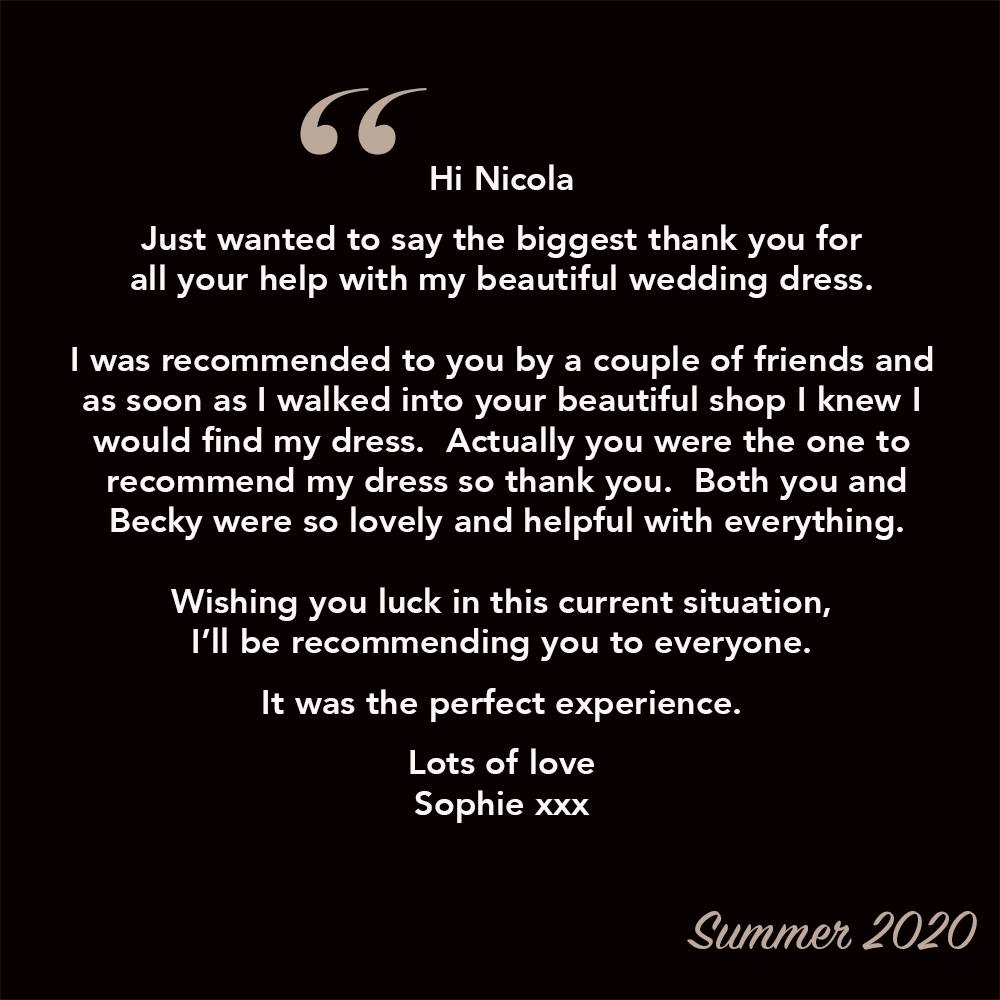 Gorgeous Sophie first visited Mathilda Rose in 2019.  We loved every moment of helping her find her dream wedding dress.  Her stunning destination wedding was booked and planned for May 2020 in Portugal so when her beautiful dress arrived at our store at the beginning of the year we excitedly started work on her alterations to make sure everything would be perfect for her special day.  Although the news was beginning to fill with stories of Covid-19 none of us had any idea of the enormity of what was to come on March 23rd.  Sophie's next dress fitting was planned to be April but this was obviously sadly cancelled and her beautiful dress alterations paused, as were so many wedding plans across the world.
Amazingly, Sophie determined not to let the Pandemic curtail her wedding plans managed to book a new date for her wedding in Portugal on October 6th 2020.  We all prayed that the British Government would announce an Air Bridge to Portugal so that Sophie's wedding could go ahead and on August 24th the good news arrived!  We pulled out all the stops, booked Sophie in for her final fitting, made sure her dress was perfect and on 28th September she flew out and married the man of her dreams!
Absolute evidence that LOVE IS NOT CANCELLED and sunnier skies ARE on the horizon!
Congratulations Mr & Mr Watkins, we wish you so much love.  You two are amazing!
"Hi Nicola
Just wanted to say the biggest thank you for all your help with my beautiful wedding dress. I was recommended to you by a couple of friends and as soon as I walked into your beautiful shop I knew I would find my dress. Actually you were the one to recommend my dress so thank you. Both you and Becky were so lovely and helpful with everything. Weddings ARE happening and we made the best of a bad situation and have such a story to tell.   We had the perfect day and for a moment forgot about everything else that is going on in the world.  Wishing you luck in this current situation, I'll be recommending you to everyone.  It was the perfect experience.
Lots of love
Sophie xxx"