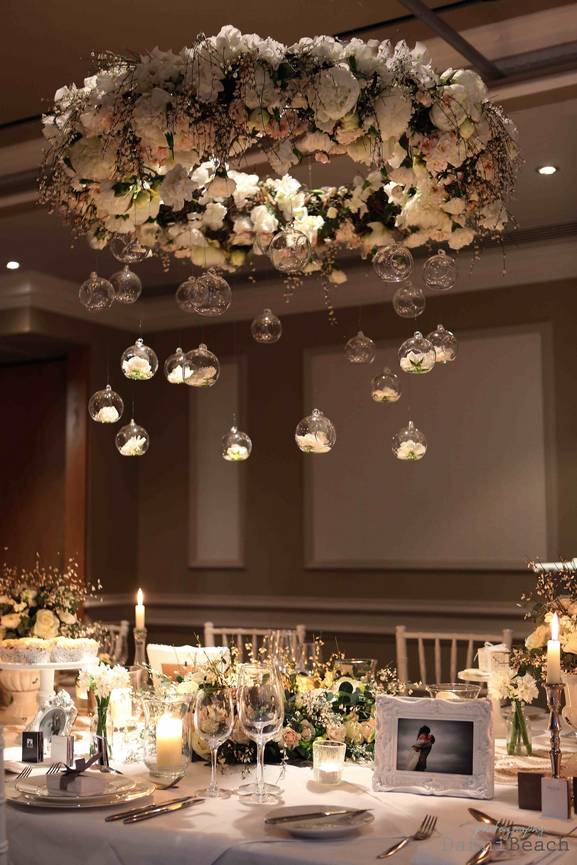 Early on in January we were very excited to collaborate with #thewindowat62 ladies to design and create our 3rd "Inspiration Room" (#inspirationroom).  This time at Alexander House hotel and Spa. Our styled room travels to a handpicked selection of luxury wedding venues with the aim of offering ideas and inspiration to engaged couples. Each time the room styling is different, but always grounded with traditional elegance with an element of on trend surprise to give that big WOW.
The delicate lace "A" dress with matching shrug is from Stephanie Allin and available to view and try on at our Lindfield Boutique.
There couldn't be a bigger WOW than this large willow framed floral chandelier bursting with white peony, white hydrangea and avalanche roses. The delicate little glass bauble tea lights hanging below are oh so romantic. A look which could translate into an elegant wedding venue or a fabulously rustic barn setting both during the day and late into the night. The flowers and colours could be altered to suit your wedding season.
So pleased to have these wonderful images to share with you!
CREDITS:-
Cake Maison
Danni Beach Photography
Flowerbug Designs
In keeping with our Sussex routes we are always thrilled when other fabulous local suppliers are able to offer the finishing touches. This time our thanks goes to Elegant Stationary for the beautiful handcrafted place & cocktail labels, Bows hire for the drapes and chairs & Gilded Linens for the sparkly chevron table runner.