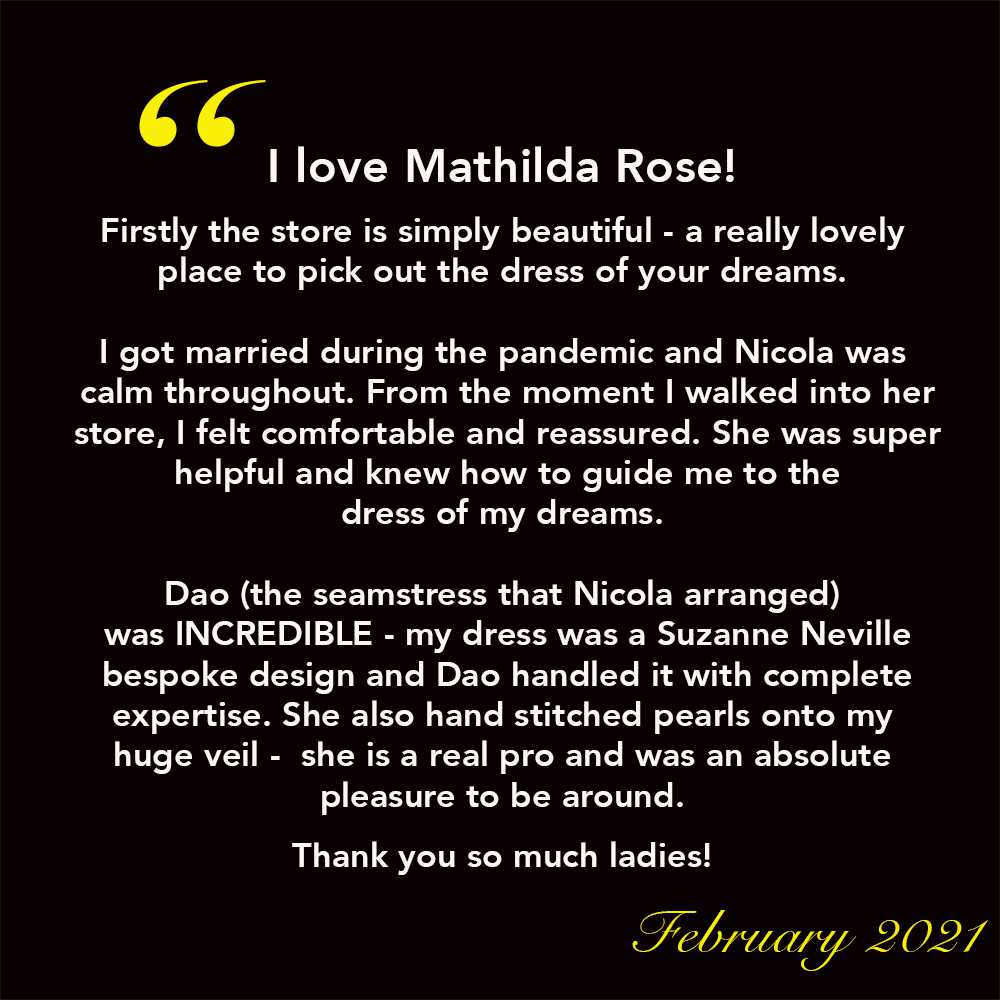 Laura-May first visited Mathilda Rose not long after Lockdown 1.0 when we reopened in July 2020.  The minute she stepped through our village boutique doors her positivity and determination was inspirational!  The wedding was booked for December 2020 at All Saints Church (Lindfield) with a reception to follow at stylish Alexander House.  Her gorgeously romantic and beautiful intimate plans were nothing short of fabulous and when she chose a bespoke Suzanne Neville dress which echoed her wedding vibe we knew it would be a match made in heaven!
The road to December was to be a bumpy one with Downing Street announcing Lockdown 2.0 on Saturday 31st October not long after Laura-May's first fitting.   Our store closed once again and her fittings were all cancelled.   Her dress hung patiently in our seamstress' workroom, waiting behind our closed doors for good news from Downing Street.
Weddings are not just about the day, but also about the huge run up before hand, the organising, the choosing, the planning, the designing and THE dress fittings!  Months and months of preparations go before the actual day and are an important part of the celebration.
At Mathilda Rose we usually need around eight weeks to fit our wedding dresses.  This is an expert process that takes hours of handwork and professional skill.  With our store closed until early November we were running out of time!  In early November, we heard the good news we had all been waiting for and we pulled out ALL the stops to ensure that Laura-May's dress was fitted and perfect for her special day.
Congratulations Mr & Mrs Walker!  Laura-May you looked sensational and we wish you so much love and happiness together.
Love Nicola and Dao x
"I love Mathilda Rose. Firstly the store is simply beautiful – a really love place to pick out the dress of your dreams.  I got married during the pandemic and Nicola was calm throughout. From the moment I walked into her store, I felt comfortable and reassured. She was super helpful and knew how to guide me to the dress of my dreams. Dao (the seamstress that Nicola arranged) was INCREDIBLE – my dress was a Suzanne Neville bespoke design and Dao handled it with complete expertise. She also hand stitched pearls onto my huge veil – she is a real pro and was an absolute pleasure to be around. Thank you so much ladies!"  Laura-May (February 2021)
#mathildarosebride
CREDITS:
Tony Dunn Flowers
Lucy Meyer Make Up Artist
Nick Davies Photography