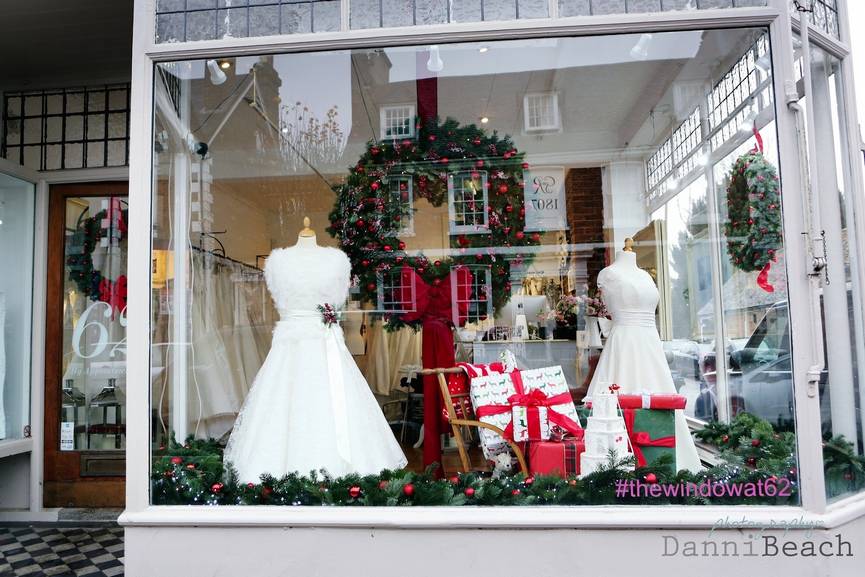 Some months ago, design meetings began and the window at 62 styling team agreed that this years window theme would represent the joy of Christmas shared with family and friends.
Just like planning a wedding a colour theme was needed and ever popular Christmas red was chosen to feature in a big way and represent tradition. Floristry adds so much to the overall feel of our windows, it creates the ambiance. and simply had to be beautiful winter garlands & frosted berries. Finally, wrapped gifts tied with bows, a handcrafted cake and of course our now infamous snow machine! We set about creating secret Pinterest boards, excitedly uploading images and the search for the perfect styling pieces begun in earnest.
So, just as the temperatures have begun to drop, there is a frosty feeling in the air and the buzz of Christmas is slowly growing in our hearts the window at 62 is complete and ready for everyone to enjoy.
We are incredibly thrilled with the results and judging by the crowds gathering outside the window it seems that Lindfield is happy too! If you can't visit Lindfield High Street this Christmas then we hope you will sit back with a hot cup of tea (or glass of wine!) and enjoy our window through the eyes of the truly talented Danni Beach photography………
Here is the info behind the styling choices…
At Mathilda Rose we love a new fashion trend and fluffy jumpers are hot. Not just as in warm, but hot as in cool! This cream angora jumper is the perfect partner for our statement lace tea length skirt, nipped in at the waist with an ivory ribbon. This look is so on trend and works so wonderfully with a festive bouquet of evergreen foliage and frosted berries……….you really can't go wrong!
For a more traditional look we chose a romantic full lace A-line corseted dress and to keep your shoulders warm a lace shrug with sutblte twinkling sequins, perfect for catching those last rays of winter sunshine. The best thing about this look? It can be so effortlessly changed into your evening look by removing the shrug and adding a sparkly sash.
Sharon Boon from Flowerbug Designs led the window team to create the most wonderful, oversized, evergreen Christmas wreath. Confidently filling the window with festive cheer, inviting visitors to step closer and enjoy. Hand decorated with shiny red baubles, frosted red berries, gently glowing fairy lights and a luxurious hand tied red velvet bow. The perfect traditional backdrop for our nordic inspired winter window display.
Emma Drew from Cake Maison worked from her Sussex cake kitchen to create the beautiful, nordic inspired, winter wedding cake with a pop of Christmas red on the two little romantic sugar hearts. This four tier wedding cake sits so gently and elegantly on the nordic wooden sleigh alongside the beautiful wrapped gifts.
With love & thanks to the truly wonderful styling team Danni Beach Photography, Flowerbug Designs and Cake Maison. #teamwork #design #hardwork #love #christmas
(Wrapping paper and ribbon with thanks from SWALK in Lindfield)