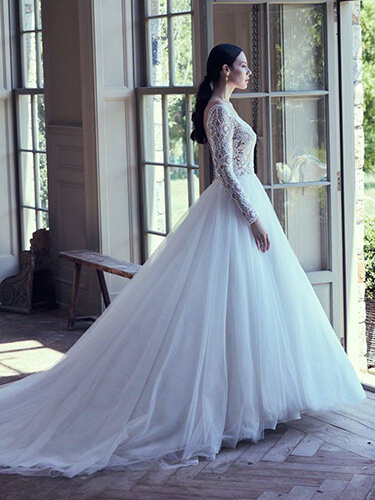 5 Reasons We Love Maggie Sottero's Alistaire Collection!
1. Confidence
Whether you're looking for a fishtail, long-sleeved, lace-covered or princess dress, this new Collection has it all. Each style is crafted with real women in mind, designed with one aim: that you'll look and feel your best on your wedding day. Figure-flattering silhouettes by Maggie Sottero are available up to a size 30 and some designs can have shapewear seamlessly incorporated into them. These dresses are crafted to embrace and enhance the beauty of your body type.
2.Quality
Take one look at the gowns and you'll see no detail has been sacrificed in the making of it. Lace is delicate; zips and buttons are chosen and added with care; tulle skirts are voluminous and light as air; satin shines, silk crêpe flatters and you can even find styles that twinkle with Swarovski crystals.
3. Style
The Alistaire Collection is pure elegance. We love that the Claudia Down is so chic and simple without losing feminine sensuality. The Mallory Dawn ballgown is worthy of a queen with its billowing skirt, intricate beading and statement bodice. The long sleeved Antonia features a Sheath silhouette lined with York jersey for a luxe feel.
4. Affordability
Despite being highly luxurious, the collection's prices are extremely reasonable. Dresses range between £1,000 and just over £2,000, so you don't have to take out a mortgage to wear something stunning on your wedding day.
5. Gold
Mathilda Rose has dressed hundreds of happy gorgeous brides in Maggie dresses and in 2019 we are honoured to have been awarded Gold Supplier Status.  As a bride this means that you can buy your Maggie dress from us knowing that you are choosing the experts!